Welcome to the tutorial page of the Eclipse Digital distribution system!
Here you will find step by step instructions on how to set up your digital release for distribution.
Let's get started!
1. Creating a new release
After you have signed up and logged in for the first time, your account looks like this.

Click on the "create a release" button to get started and enter the title of the release. This is the name of your album, EP or single. Press "Create Release".

Click on the upload symbol and select your album cover graphic file to upload your album cover. The file must be in either jpg, tiff or png file format, RGB colors and at least 3000 x 3000 pixels in size. The title of the album and the title in the cover graphic should match.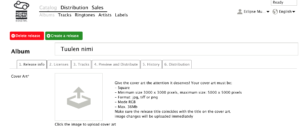 Next it's time to enter basic information about the album.
-Remix or Version-
If the album is a remix or an alternate version (re-release, special edition etc.) of a previously released album or regular version of the album being released at the same time, it should be mentioned here. Don't write "remix" or "special edition" in the album title.

-Artist(s)-
Enter the album's primary and feature artist information here. Usually there's only the main artist or band, but additional artist information can be entered if a featuring artists, orchestra, conductor or remixer is a main contributor on the album and is featured on most of the album's material.
Choose the role of the artist, enter the artist's name and press "add artist". You can add several artists. Make sure the artist information is reflected in the cover art.
-Label-
Enter your record label or choose Eclipse Music Digital or enter your own name if you're self-publishing.
-Primary and secondary genre-
Streaming platforms and download stores will need to categorize your music so this information is very important. By entering the first few letters of the main genre of music you want to be associated with you can choose your main and secondary genres. If you don't find exactly what you want enter the genre that is as close as possible.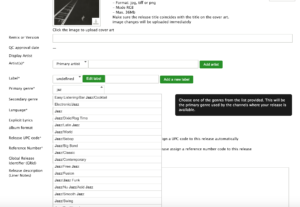 -Explicit Lyrics-
Check this box if you album contains strong lyrics. It will make quality control faster and easier.
-Album format-
Choose "single" if your release contains 1-2 songs.
Choose "EP" if your release contains 3-5 songs.
Choose "Album" if your release contains 6 songs or more.
-UPC code-
Also known as the barcode. If your label has already provided you with a barcode or if your release is a previously released back catalogue album, enter the barcode number here. Must be in UPC format (12 digits). Otherwise check the small box and the system will generate the barcode automatically when the album has been approved by Quality Control.

-Reference number-
If you have a catalogue code/number provided by your label you can enter it here. Otherwise leave blank and the system will generate one for you.
-Grid-
Usually needed only if you're re-releasing a previous album or migrating from another distribution system. If you don't have a Grid code, just leave it blank.
-Release information-
Enter your liner notes and/or any additional information about your album here.
REMEMBER TO PRESS SAVE