4. Distributing your release
After you have finished adding your track data page 4 "Preview and Distribute" should look something like this.
If you need to edit your track data you can so by clicking "edit" on the right side of the track list.
You can also preview the audio by clicking the play button of the left side of the track list.
When everything is ready click "Distribute this release" on the upper right corner. The system will pop up the following window.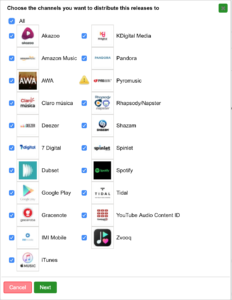 These are the download stores and streaming services where your music will be available. By default all channels are selected but you can easily select various channels if you want your music to be more exclusive to certain platforms.
NOTE! Pyromusic is a platform especially for electronic music. If your music is not within certain genres the release will not be distributed to Pyromusic. That's why you may get the warning logo. You don't have to do anything about it.
If and when you are ready to distribute click "next".
You may be guided to review your order. This is because the system allows for fees to be collected if a record label chooses that option. For artists the fee is 0€, so no payment is needed at this time.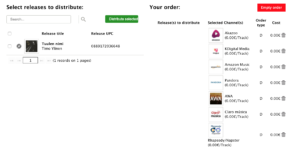 If you have several upcoming releases they can be processed together.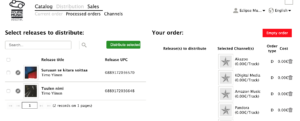 At the bottom of the screen you will find a checkout button. Click the button.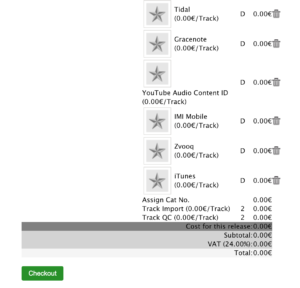 Accept the terms of service and click "delivery" at bottom of the screen.
DONE!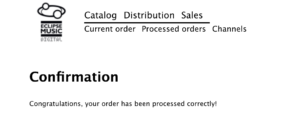 After this the release will be reviewed by Quality Control. They will check the general audio quality and that the metadata, track and album information has been entered correctly. This will take 2-5 working days after which the system will generate your barcode and the material is sent to all platforms.